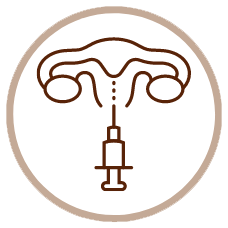 IVF/IUI Support
Studies have shown supplementing ART (Assisted Reproductive Technology) procedures with Acupuncture can improve outcomes by up to 65%. These include IVF, IUI, and drug-induced ovulation.
Sub-fertility is a modern-day concern. The number of couples resorting to IVF and IUI have tripled in the last decade. While such procedures do serve as an alternative for numerous underlying conditions, IVF and IUI can be physically, mentally, and emotionally draining. Hence pre-conception care is important when planning for reproductive procedures. Groundwork is just as important as the home run.
Acupuncture is a powerful modality to use as an adjunct with ART's. Regular treatments leading up to IVF and IUI can help address so many of side effects of these procedures as well as improve outcomes. It's a win-win. Acupuncture performed pre and post embryo transfer treatments done in the 24-hour window are particularly beneficial.
Acupuncture for IVF/IUI treatments can