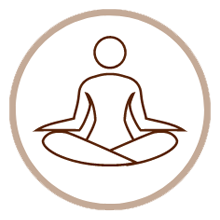 Yoga
Yoga is harmony in motion. Though all forms are beneficial, for fertility we recommend Yin yoga in particular. This is an all-levels yoga class that helps you alleviate pain and tension while nourishing your yin; its focus is on calming the mind. It usually consists of a series of long-held, passive floor poses that mainly work the lower part of the body the hips, pelvis, inner thighs, and lower spine. These areas are especially rich in connective tissues.
Numerous studies show that yoga benefits the mind, body, and spirit. Listed below are just some of the ways your health can improve when you practice this ancient form of movement.
Yoga helps manage stress better. Even as little as twice-a-week yoga practice can help keep those anxiety symptoms at bay.
A regular yoga routine particularly in the evening hours can help you with sleep disorders.
Improved cardiovascular health. Yoga may be able to improve circulation and benefit high blood pressure.
Auto-immune function. Gentle yoga has been shown to ease symptoms of arthritis as well as reduce systemic inflammation.
Certain yoga poses increase mobility in people with lower back pain.
Yoga improves circulation and improves strength in the muscles of the pelvis.
You may see an increase in your Qi aka life energy and better immunity with regular practice.
If you're looking for a yoga studio near you that offers sessions with smaller groups and more personal attention, come check us out!
We offer group yoga every Wednesday at 6:30 pm for a drop-in fee of only $15
Yoga Instructor Lorena
Lorena has 4 years of experience teaching yoga. She is a passionate teacher. She pays particular attention to alignment. Don't be surprised when she walks over to you mid-session to correct your alignment or help you deeper into the pose. Simply put – teaching yoga brings her joy!

As an instructor, she is aware that the classes will help her students quiet their minds, open their hearts, and hold themselves sacred. Her goal is to leave her students better than she found them!
Lorena is mom to 2 young boys who she loves to bits. She enjoys reading and journaling in her free time.